Quick Specs
Overall Width
1740 mm
Flow Range
108 LPM
Op Weight
4200 kg
Engine
Yanmar
OPEN CANOPY & ENCLOSED CAB MODELS AVAILABLE
With a powerful Yanmar 3TNV88F engine and premium quality hydraulic componentry, the XE35U delivers efficient and durable performance.
The XE35U mini excavator cooperates with multi-functional working tools to complete tasks such as excavation, loading, leveling, trenching, crushing, drilling, clamping, lifting, etc. in hydropower, transportation, municipal, garden, farmland transformation and oil pipeline works.
The overall shape of the XE35U adopts a tailless design, which is flexible and versatile for operating in tight and small spaces, such as urban streets and residential properties. The minimised slewing radius ensures improved convenience and safety.
Key Performance Specs
| | |
| --- | --- |
| Operating Weight KG: | 4050 (Open) / 4200 (Cab) |
| Engine: | Yanmar 3TNV88F |
| Power: | 18.2kW / 24.4HP |
| Max Torque: | 85.3-94.2Nm / 1320rpm |
| Max Speed: | 3.6km/h |
| Hydraulic Flow: | 108 LPM |
| Dig Depth & Reach: | 3060 / 5300 mm |
| Bucket Digging Force: | 28.6 kN |
| Arm Digging Force: | 20.3 kN |
Additional Specs
| | |
| --- | --- |
| Overall Width: | 1740 mm |
| Swing Speed: | 9 RPM |
| Main Pump Type: | Hengli |
| Dipper Length: | 1350 mm |
| Boom Length: | 2560 mm |
| Dozer Blade: | Included |
| Quick Hitch: | Twin lock |
| Emergency Stop: | Included |
| Buckets: | Enquire |
Developed with the concept of "Safe, Reliable, Efficient, Comfortable", the XE35U hydraulic excavator offers additional value to the operator. New features are presented making the machines more productive, versatile, and cost effective.
The XE35U's Yanmar 3TNV88F Stage V engine, along with the load-sensing hydraulic system, provides high operating efficiency and fuel economy.
This compact excavator is designed and built to work on more jobsites while reducing risk of damage to the machine and its surroundings.
Moreover, convenient accessible service points make maintenance easier and reduce your potential downtime.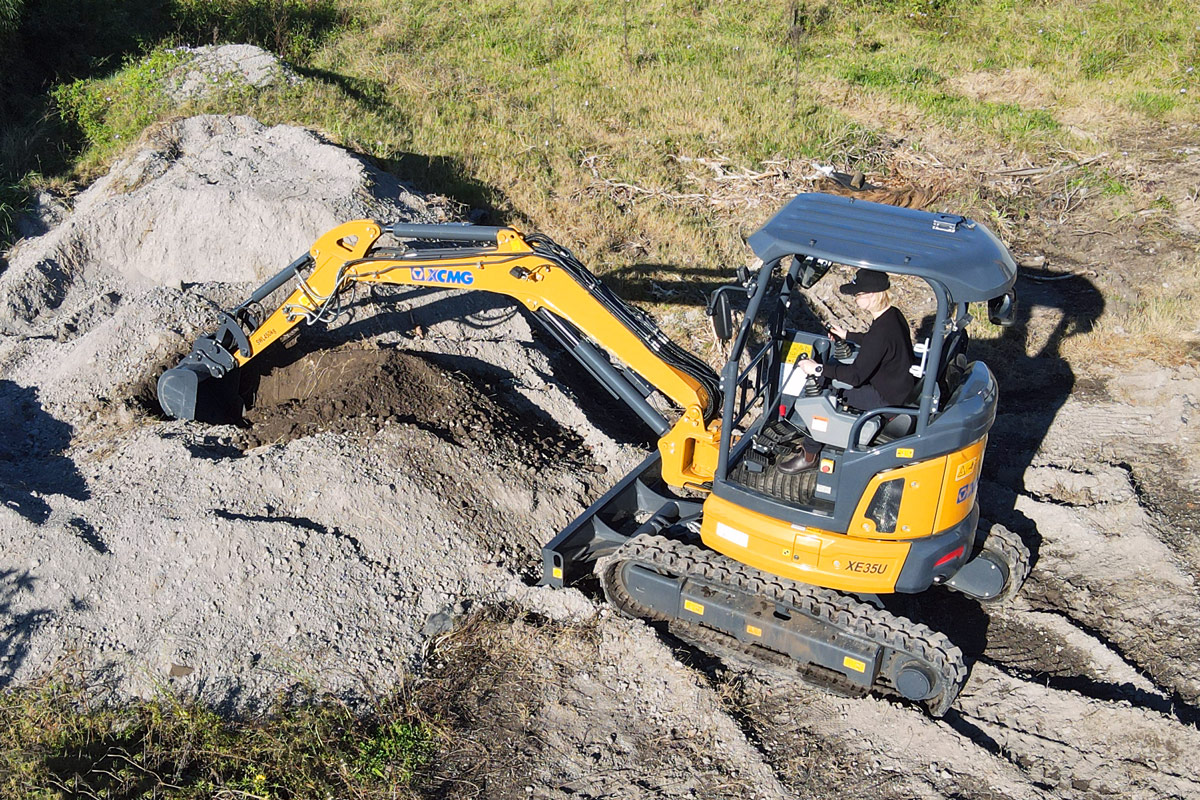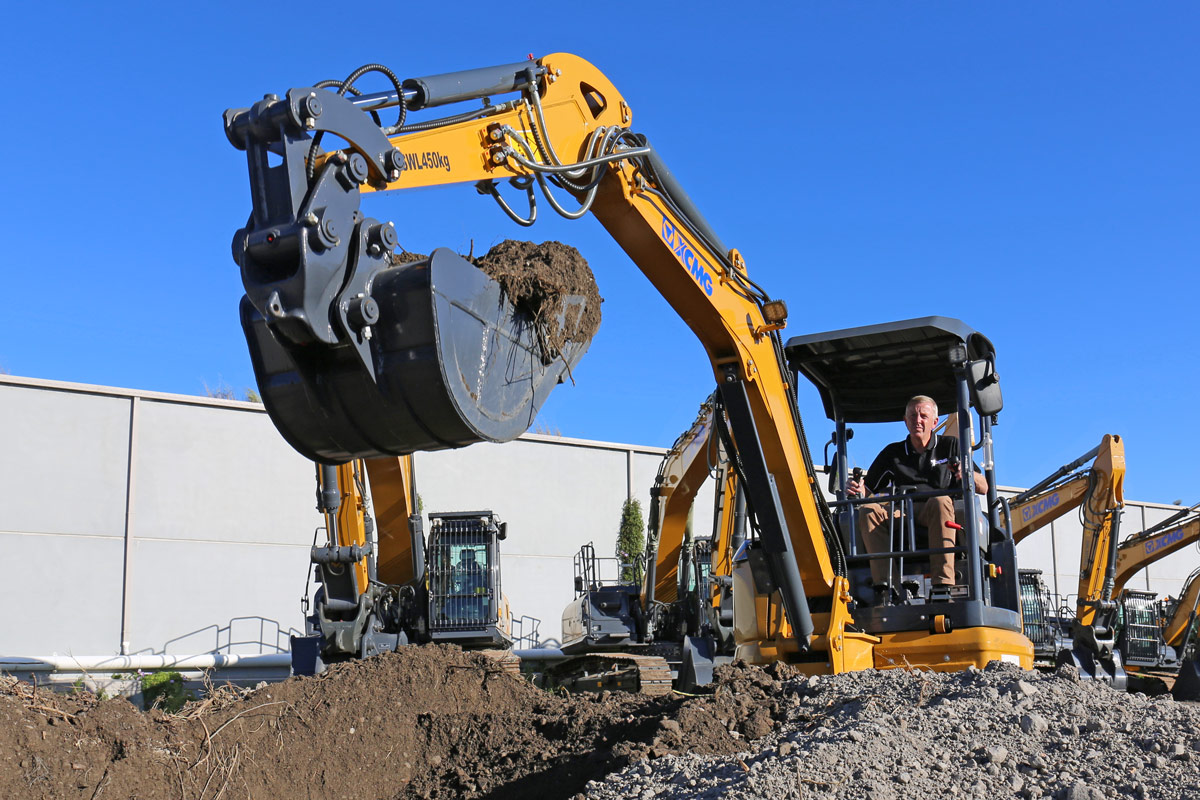 Superior hydraulics are delivered by the XE35U's Hengli hydraulic pump, operating at 108 litres per minute – one of the highest system flow rates in the industry – with 2 variable displacement piston pumps and boom, arm, bucket and travel circuits.
In addition is 1 constant flow gear pump, blade and slew and 50 litres per minute auxiliary 1 and 2 as standard.
With zero tailswing, 360˚ slewability, excellent stability and smooth control, combined with unmatched power and efficiency, makes it a versatile excavator which performs at its best in urban areas.
The XE35U also includes an X-track undercarriage frame, offering high strength and minimisation of dirt and mud build-up for easier cleaning. In addition, double flange track rollers improve travel stability and performance, and are not often found on competitor machines in this size class.
Ideal for a wide variety of projects, including demolition, roadworks, landscaping and much more.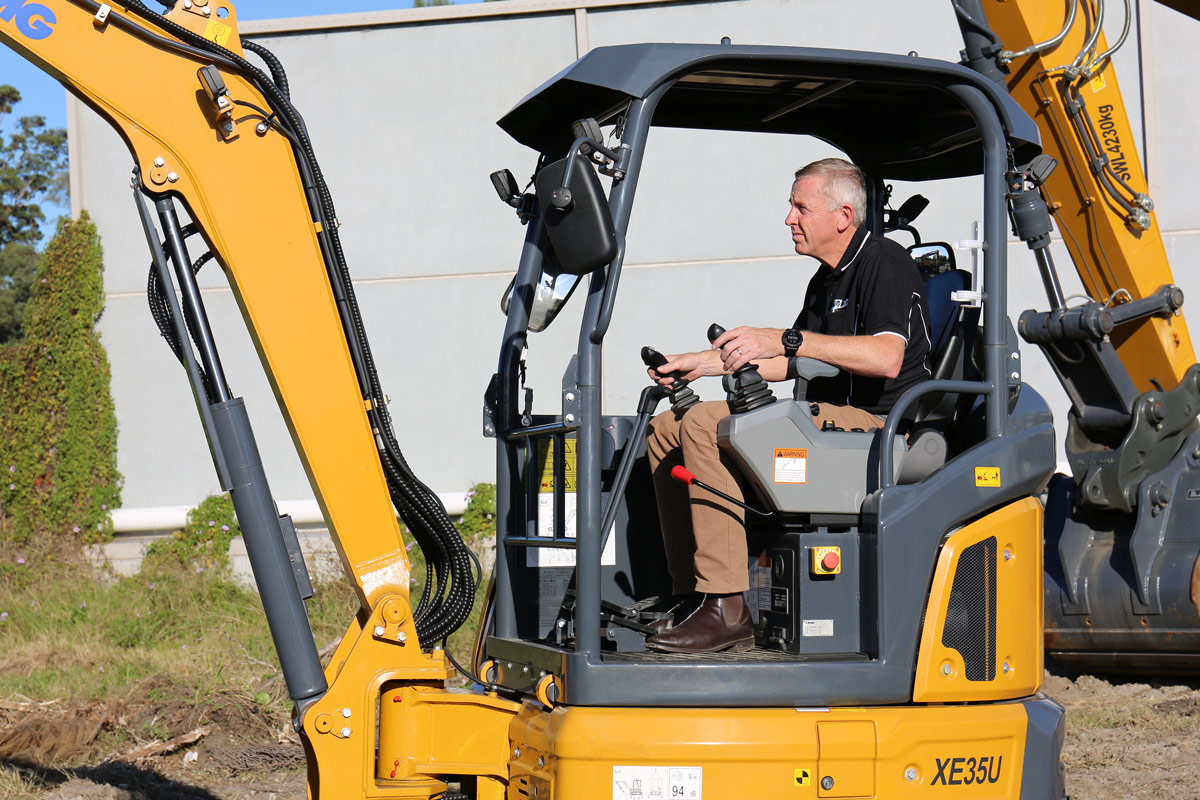 The XE35U mini excavator offers the operator a large, comfortable workspace.
The ergonomic layout of the controls, the travel pedals, and the adjustable wrist rests, are designed to reduce operator fatigue and increase productivity.
With a wide entry door on the cab model, plus exceptional visibility forward, side and above, and a Grammer brand premium quality seat, the XE35U is undoubtedly designed for all-day comfort for any sized operator.
In addition, the colour LCD panel inside the cab shows the operator all key machine stats such as temperature, fuel, time and work modes.
Daily checks and regular service points including fuel and hydraulic oil fill are easily reached via the tiltable cabin – a rare feature for a machine in this size class and an impressive feature for ease of machine maintenance and service.
The main hydraulic valve and lines are also easily reached through a removable floor plate and side panels. The XE35U also has durable steel body panels all around, offering good resistance to impact damage after a potential incident.
Hydraulics are double pumped on the boom, plus burst protection valves maximise the safety of the machine.
In addition, the XE35U is designed for lower maintenance cost with longer service intervals – resulting in more machine availability on-site. Meanwhile, skilled XCMG-trained technicians are available to provide extra support when needed.
SUBMIT AN ENQUIRY OR REQUEST A QUOTE