Quick Specs
Rated Op Load
3000 kg
Op Weight
11000 kg
Horsepower
132 HP
Dump Height
2930 mm
The XCMG XC938 wheel loader is a new generation of loader. XCMG makes full use of its international R&D platform to integrate global technology and produce completely independent designs.
As a result, the XC938 front end loader is uniquely powerful, rugged, energy efficient, safe and comfortable – as well as being simple to maintain. With worldwide renown for its performance and value for money, the XC938 is the ideal solution for customers seeking the ideal 11 tonne loader solution for any application or industry.
Equipped with a Tier 3 emission Cummins QSB6.7 engine, ZF 4WG158 transmission, quantitative hydraulic system and XCMG wet axle, the entire machine offers significant advantages relating to reliability, efficiency, comfort and control.
Key Performance Specs
| | |
| --- | --- |
| Operating Weight: | 11000 kg (approx) |
| Engine: | Cummins QSB 6.7 |
| Power: | 99kW / 132HP |
| Rated Operating Load: | 3000 kg |
| Dump Height: | 2930 mm |
| Dump Distance: | 1010 mm |
| Wheel Base: | 2900 mm |
| Wheel Track: | 1850 mm |
| Minimum Ground Clearance: | 370 mm |
| Length: | 7705 mm |
| Height: | 3405 mm |
| Width: | 2482 mm |
Additional Specs
| | |
| --- | --- |
| Dumping Angle: | 45 Degrees |
| Max Breakout Force: | 130 kN |
| Max Traction: | 95 kN |
| Turning Radius: | 5170 mm |
| Lift Time of Boom: | 5 Seconds |
| Total Hyd Cycle Time: | 8.9 Seconds |
| Tipping Load (Max Steering): | 7000 kg |
| Tipping Load (Straight State): | 9200 kg |
| Speed (1/2/3/4): | 8/13/27/36 |
| Rotate Speed: | 2200 RPM |
| Bucket: | 1.8m3 |
HIGH RELIABILITY
Cummins QSB6.7 engine provides required power for complex working conditions.
Automatic ZF 4WG158 torque converter transmission reduces shifting impact.
XCMG wet axle meets high working load requirements.
Full hydraulic wet brake system is highly reliable and maintenance-free.
Extra heavy load frame design to extend machine life and performance.
Wear resistant and impact resistant high strength steel plate for bucket material.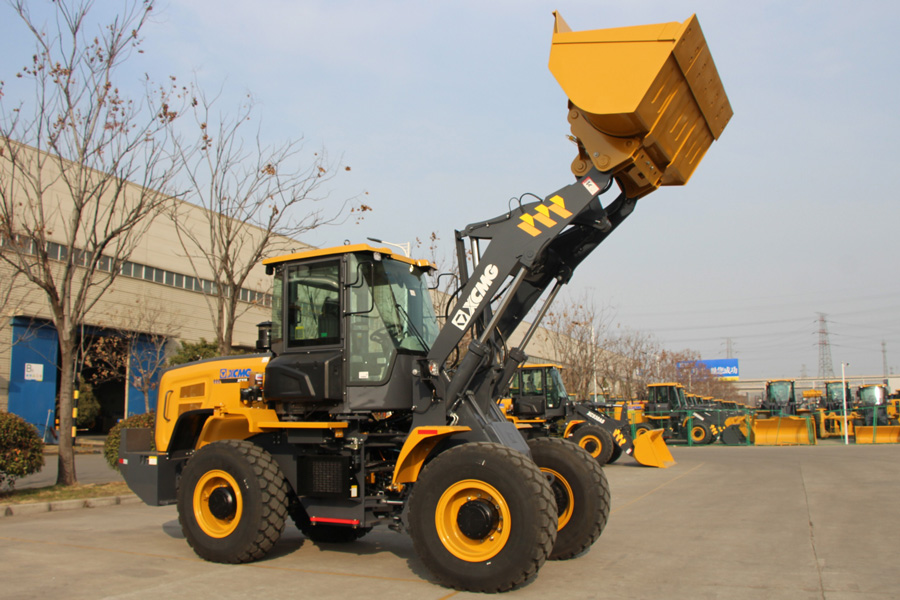 INTELLIGENT
Heat management system with large radiator and low speed fan ensures maximum performance.
Fan has automatic reversal function for self-cleaning in high dust environments.
Quantitative hydraulic system provides on-demand distribution of fuel supply during steering and work unit operation.
Command-based controls makes the operator's work easier and more enjoyable.
COMFORTABLE OPERATION
Spacious and ergonomic cab with excellent visibility.
FOPS/ROPS cab with heat and air conditioning provides air flow through multiple vents.
Well sealed and insulated cab to provide a dust proof environment.
All switches are conveniently placed and controls are highly ergonomic.
Digital gauges in the cab monitor and display the loader's vital functions.
Suspension seat with excellent lumbar support minimises operator fatigue or discomfort.
Integrated F-N-R electronic lever shifting function offers precise control and easy operation.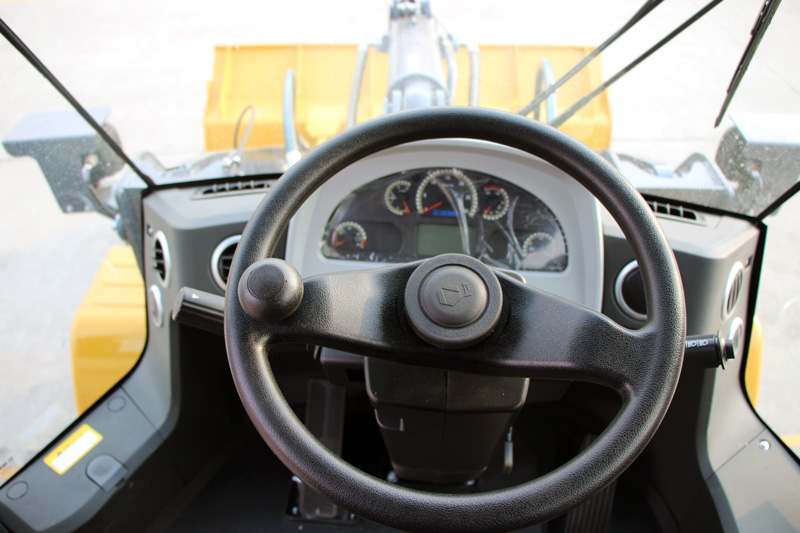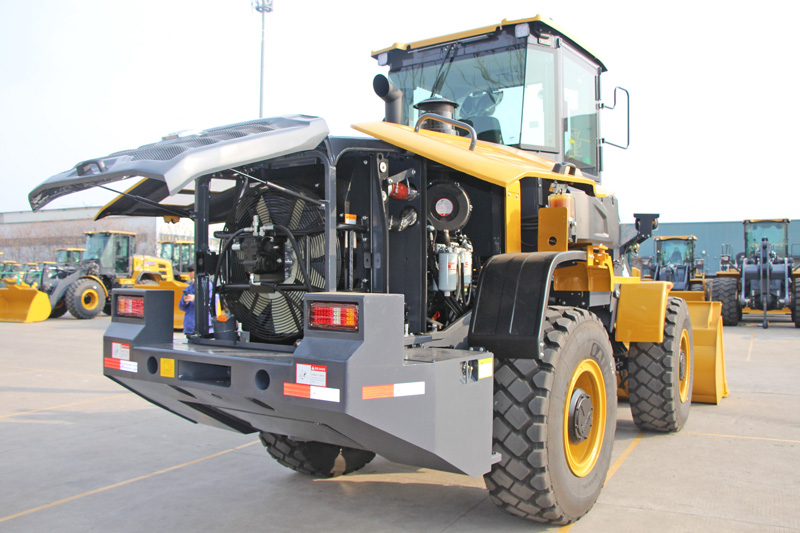 EXCELLENT SAFETY
Complies with ISO 5006 operator vision field standards.
Complies with ISO 3449, 3471, 3164 ROPS/FOPS cab standards.
Complies with ISO 2867, 2860 ladders, passageways, operation platform and exit/access standards.
Complies with ISO 10533, 10570 lifting arm bracket and hinged lock device standards.
Flame retardant material applied to cab interiors and fire extinguisher equipped.
EASY MAINTENANCE
New digital combination meter shows the vehicle running status and various other info at a glance.
Side-turn cab and large angle side door openings offer easy access to engine and componentry for easy service.
Single row of large tone radiators and an upturned back cover.
Centred electrical fuse box for effortless check-ups and high reliability.
Remote centred lubrication, drainage pressure testing.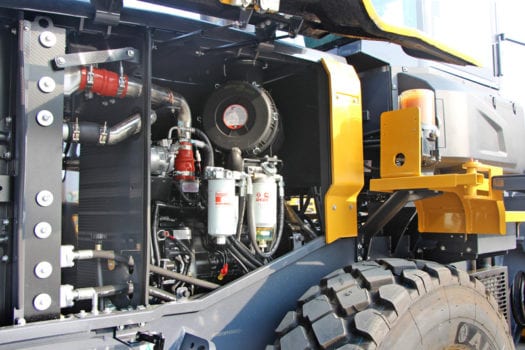 SUBMIT AN ENQUIRY OR REQUEST A QUOTE