ABOUT XCMG
Introduction
Founded in 1943, XCMG is a multinational corporation with manufacturing bases in the USA, Germany, China, Brazil and India, and is now the World's 3rd largest manufacturer of construction and heavy equipment.
Within Australia, XCMG continues to rapidly grow its distribution, supply chain and service network throughout the nation. With deep relationships with corporate giants such as Rio Tinto, BHP and MMG in Australia, XCMG is fast becoming one of Australia's premier construction machinery brands.
Global Powerhouse
As part of its commitment to implementing the "Going Global" strategy, XCMG has established a product sales network that covers more than 183 countries and regions and set up more than 300 XCMG distributors overseas to provide users with comprehensive marketing services.
XCMG's annual export value has exceeded US$1.6 billion, and it has maintained its place as the industry leader by export value for almost 30 consecutive years.
Today, XCMG enjoys the leading market share in nine types of machinery and three types of basic components. XCMG is also the biggest exporter of five types of machinery and the world leader in terms of sales volume of crane trucks and heavy-duty road rollers.
Technology & Innovation
XCMG has integrated technological innovation and development to create a series of products that represent the most advanced technologies around the world.
Examples include a 2,000t all-terrain crane, 4,000t crawler crane, 12t heavy-duty loader, 100m aerial fire truck, and fourth-generation intelligent road construction equipment, all of which have been extremely influential in the global construction machinery industry.
XCMG currently has 2,156 valid registered patents, including 164 patents of invention, and has developed more than 100 domestically manufactured products. Technological innovation has become XCMG's key to unlocking global markets.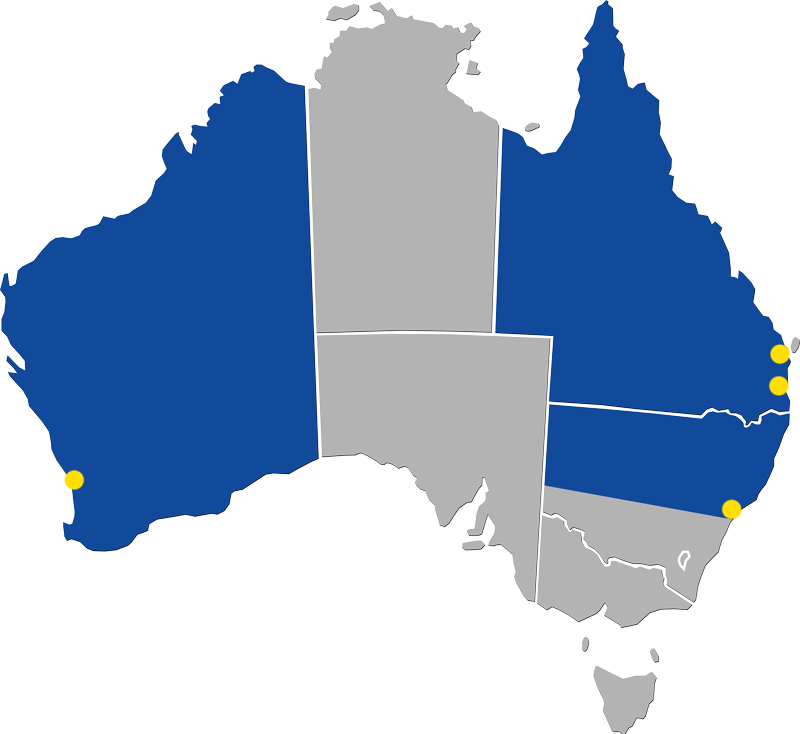 Established as the regional dealer for XCMG in Northern New South Wales, Queensland and Western Australia, XCMG Sales & Service utilises broad and unmatched expertise across sales, parts, service and support to continue to grow the XCMG brand in Australia.
With dealerships in Newcastle, Brisbane, Sunshine Coast and Perth servicing the wider surrounding regions, XCMG Sales & Service is growing to become a powerhouse of the industry in all areas.
We service every corner of our dealer territories to ensure maximum customer satisfaction and success. We strive to minimise your machine downtime and maximise your income to deliver the best possible results from your XCMG equipment. Field service agents are utilised for any scheduled or unscheduled maintenance requests as needed, and our dealerships possess industry benchmark service capabilities and expertly trained technicians focused on keeping your machine operating to the highest standard.
Ultimately, your success is our success, and we're here to make that happen.
FREQUENTLY ASKED QUESTIONS
Who is XCMG?
XCMG is the World's 3rd largest construction machinery manufacturer, founded in 1943. With manufacturing facilities around the world (Germany, Brazil, India, China and USA), XCMG is a global powerhouse in the construction machinery industry and produces more than $3 billion worth of products each year.
Is XCMG in Australia?
Yes – XCMG machinery has been operating in Australia for more than a decade, initially as part of partnerships with major Australian mining companies. Today, XCMG has an extensive dealer network throughout Australia and an unmatched parts and service supply to all areas of the nation.
Why should I choose XCMG over other brands?
XCMG machinery is the benchmark in performance and reliability at unmatched value-for-money. With comparable or better quality than many competitors across the entire range, without the same high price, XCMG machines provide the ideal solution for owners and operators searching for outstanding quality, support and value in their next machine purchase.
XCMG is dedicated to its core value of "Taking Great Responsibilities, Acting With Great Morals, and Making Great Achievements" and its corporate spirit of being "Rigorous, Practical, Progressive, and Creative" in order to keep moving towards its ultimate goal of becoming a leading world-class enterprise capable of creating real value.
Where are your branches?
While XCMG has many branches throughout Australia, our dealerships of XCMG Sales & Service (part of the ASV Sales & Service group) are located in:
Newcastle (Headquarters) – serving northern NSW from the Hawkesbury River up to the Queensland border.
Brisbane – serving south east and central Queensland, south of the Pine River.
Sunshine Coast – serving central and northern Queensland, north of the Pine River.
Perth – serving all of Western Australia.
For additional XCMG dealers outside these areas, visit www.xcmg.net.au.
What machine backup and support do you offer?
Utilising the vast resources and industry networks of our parent company ASV Sales & Service, we have service agents all throughout our territories listed above, as well as major service facilities at each of our 4 dealerships. In addition, XCMG offer an impressive parts network with thousands of items stocked on dealerships shelves, to ensure fast replacement when needed and minimal downtime for your machine.
Our team of sales, service and parts representatives are extremely knowledgeable and keen to assist you ownership of your XCMG machine throughout its entire lifecycle.
What machines do you sell?
View our diverse range here.
Do you sell used machines?
Yes – we often have used machinery available to purchase as an alternative to new machines. You can browse our current range of used machines for sale here.
We also take trade-ins on new machine purchases, should you have an old machine you're looking to upgrade.
Do XCMG machines use good componentry?
Yes – XCMG take great pride in using only premium components throughout every machine. Depending on the machine, you'll find components from renowned brands such as Cummins, Kubota, Kawasaki, ZF, Yanmar, Isuzu, Eaton, Bosch Rexroth, Miller and many more.
Using only the best components in our machines ensures maximum performance, lifetime, efficiency, reliability and overall customer satisfaction – all primary goals of XCMG.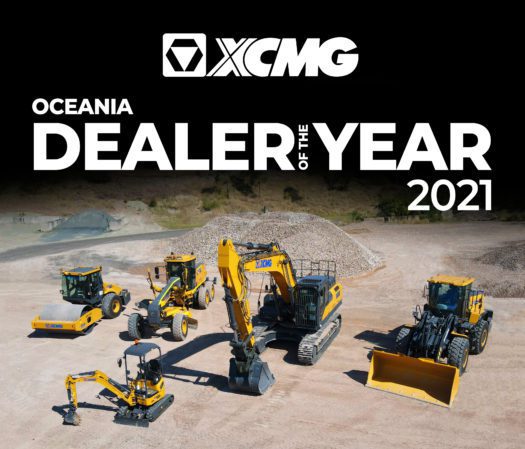 PROUD OCEANIA DEALER OF THE YEAR 2021!
THANK YOU FOR YOUR SUPPORT!