Quick Specs
Overall Width
990-1240 mm
Flow Range
64.4 LPM
Op Weight
1795 kg
Engine
Kubota D902
With a powerful Kubota D902 engine and premium quality hydraulic componentry, the XE17U delivers efficient and durable performance. The ROPS and FOPS canopy meets Australian safety requirements and provides a safe lock function. The XE17U also delivers exceptional breakout digging force with its reinforced arm, stick and bucket. Maintenance is also simple and efficient to minimise downtime and maximise work time.
The World's 3rd Largest Construction Machinery Manufacturer.
Renowned Kubota D902 3 Cylinder 15.8 HP / 11.8kW Engine.
Reliable Bosch Rexroth Hydraulic Pump @ 64.4 LPM Flow.
Zero Tailswing with 360 Degree Slewability.
Tried, Tested and Proven Eaton Swing & Travel Motors.
Variable 990-1240mm Track Width = Versatility & Accessibility.
Double Flange Track Rollers for Additional Durability.
Colour LCD Panel Display = Excellent Machine Awareness.
Boom Cylinder Located Above Boom for Additional Safety.
Easy & Quick Access to Maintenance & Service Areas.
Exceptional Breakout Forces & Hydraulic Performance.
Reliable After-Sales Parts, Service & Support Australia-Wide.
Key Performance Specs
| | |
| --- | --- |
| Operating Weight: | 1795 kg |
| Engine: | Kubota D902 |
| Power: | 11.8kW / 15.8HP |
| Max Torque: | 51.3Nm / 1800 rpm |
| Max Speed: | 3.5 km/h |
| Hydraulic Flow: | 64.4 LPM |
| Dig Depth & Reach: | 2290 / 3900 mm |
| Bucket Digging Force: | 16 kN |
| Arm Digging Force: | 10 kN |
Additional Specs
| | |
| --- | --- |
| Overall Width: | 990-1240 mm |
| Swing Speed: | 10 RPM |
| Main Pump Type: | Rexroth |
| Dipper Length: | 950 mm |
| Boom Length: | 1830 mm |
| Dozer Blade: | Included |
| Quick Hitch: | Mechanical |
| Emergency Stop: | Included |
| Buckets: | Enquire |
This mini excavator is ready for today's tough jobs. With a ROPS/FOPS canopy, the XE17U provides excellent visibility, stability, optimal comfort and safety.
Ideal for tough jobs in tight corners that demand precision control and state-of-the-art performance, the XE17U is ready to work. Includes many advanced features: Zero-tail swing, hydraulic retractable undercarriage, boom swing, short and long arm and powerful digging forces.
Add high reliability, low operating costs, and superior efficiency, and you've got the ideal mini excavator for a wide range of modern jobs.
The XE17U provides an uncompromised operator environment – which, together with excellent visibility, provides unmatched operator comfort and safety.
This machine is built around the operator, providing optimal ergonomics for operators of all sizes. Access to the seat is convenient thanks to the large entry.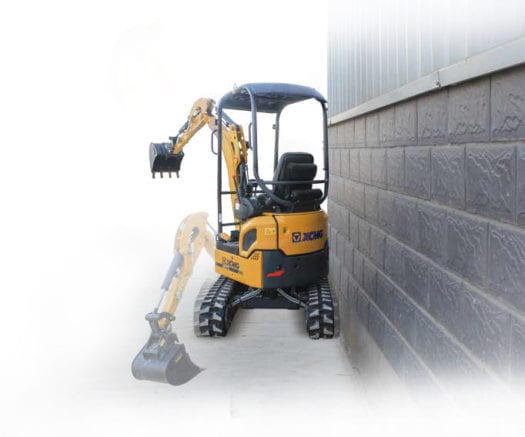 With zero-tail swing, even the tightest space becomes an efficient work place.
The tail always stays within the width of the tracks (when extended) and lets you turn the canopy throughout its 360-degree turning radius with complete confidence and safety.
When developing our zero-tail XE17U, balance, fast and smooth operation was our main goal. The result is a compact excavator with excellent balance that comes to its full potential in urban environments, landscaping, and small demolition in and outside buildings.
SUBMIT AN ENQUIRY OR REQUEST A QUOTE